Value-based pricing is one of the most common pricing strategies in SaaS. 
Founders and investors alike benefit from using a value-based pricing strategy because it captures more value created by your product, leading to higher profit margins.
Let's dive into what this strategy is and how to make the most of it when pricing your SaaS product.
What Is Value-based Pricing?
Value-based pricing is pricing your product as a certain percentage of the value created by your product or features. In theory, it represents the highest possible price customers will pay for your product.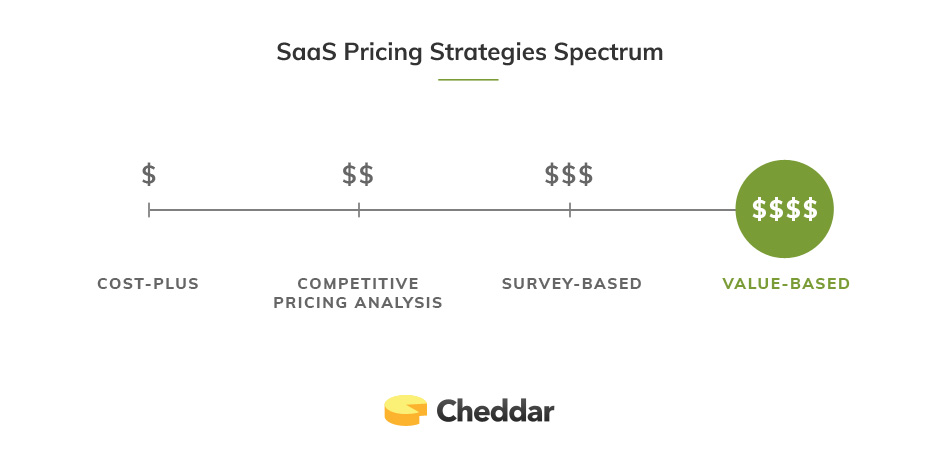 Before starting Cheddar, our team worked with over 20+ startups to develop and launch their products. Throughout our experience, we've learned that you can generally charge between 10%-50% of the aggregate value your product creates.
The hardest part of this pricing strategy, however, is quantifying that value and understanding its relationship with your product.
How Much Value Does Your Product Create?
Calculating a value-based price relies on knowing how much value your product or service creates for your customers. While there's no universal formula, it theoretically involves measuring an increase in your customers' revenue or decrease in their expenses. A good framework for a value-based pricing formula is as follows:

Your product could increase revenue by increasing the number of total paying customers, average revenue per customer, or customer retention. Alternatively, your product could decrease expenses by saving customers time or money. It's possible your product does some combination of these activities. Here are are a few examples:
Lead generation products

can help your company

save time

on prospecting while

increasing your number of paying customers.
Customer service and support platforms

can

increase your customer retention rate

by helping you form better relationships with your customers.

Infrastructure APIs

can help you

save time and money

over building something in-house.

Product analytics tools

can help you determine which customers are most engaged in your product. These customers might be open to an upsell, which would

increase ARPU

(Average Revenue Per User).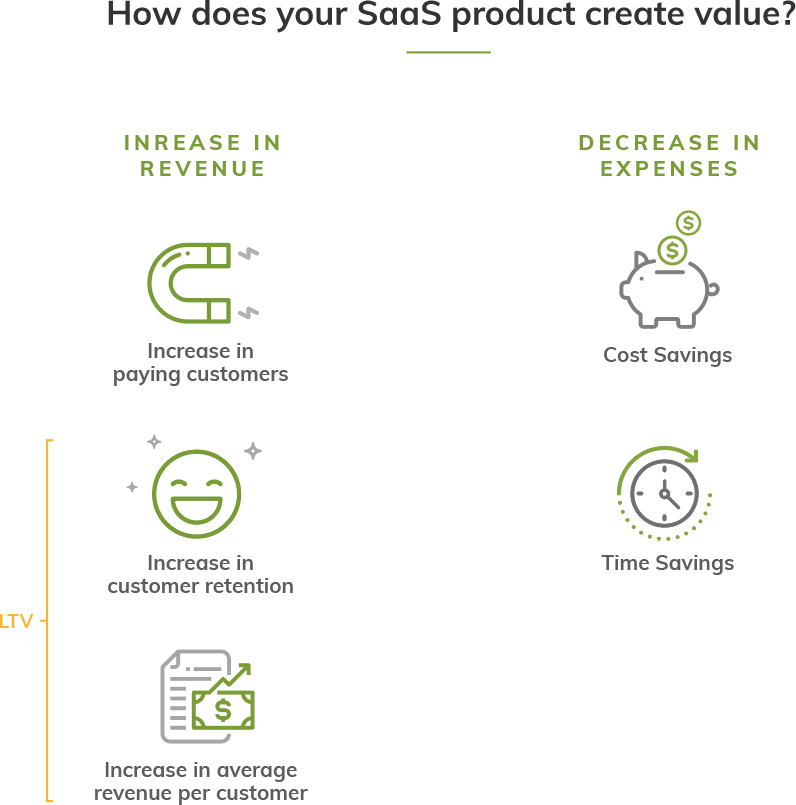 Whatever your product does, you'll want to quantify how much value it creates through its impact on one of your customer's KPI's or other metrics. Some of these metrics might be:
Your customer's expansion revenue

The number of qualified leads you help generate

Hours of a business development representative's time

Free to paid conversion rate
The more granular you are, the better your chances are at finding commonalities between customers of various sizes and segments. You'll also be more likely to pinpoint the value metrics and features to structure your pricing around.
To begin uncovering these dynamics, you should estimate your product's value for a small, medium, and large customer. As you work through your estimates, you'll force yourself to better understand what your product is worth to various customers and how much those customers should pay you.
Deciding On A Value Metric
A value metric is a measurable component of your software which correlates with the value your customers gain from your product. Pinpointing a good value metric is a great pillar for pricing that scales with your customers. The closer your value metric aligns with your customers' value, the better you'll be able to serve different sized customers. Additionally, you'll be able to minimize churn, increase revenue, and decrease any friction to sign up.
Value metrics vary widely depending on the type of product. Some well-known value metrics are:
Seats (project-management software)

Emails sent (email management software)

Gigabytes of data (cloud storage).
You can also have and use more than one value metric to structure your pricing around. Here are a few other examples of value metrics for a range of software companies.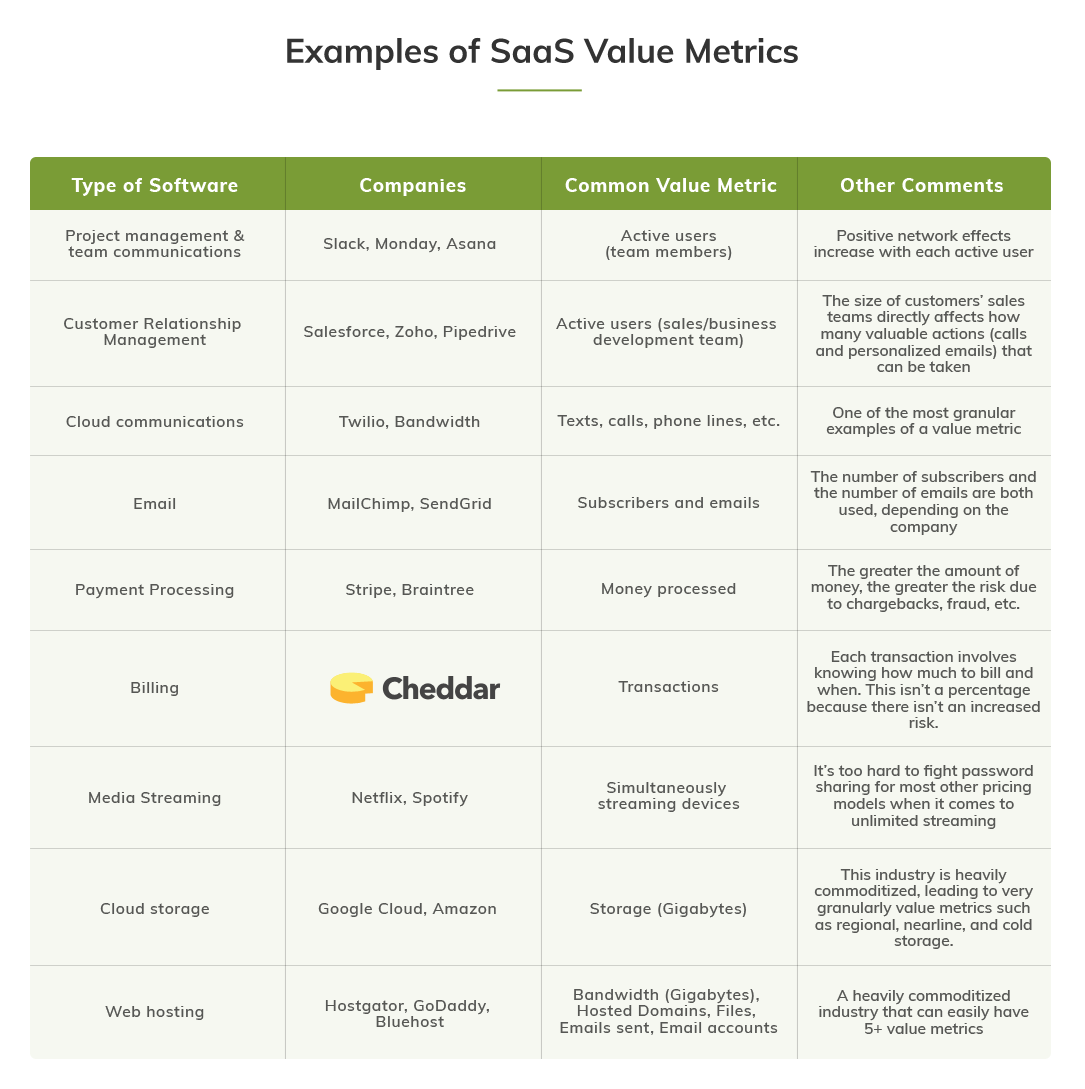 Experimentation can help you find your value metric(s). Using a usage-native billing system like Cheddar, you can track a range of potential value metrics and quickly iterate pricing around them.
You can also sign up for our free Pricing Bootcamp to help you pinpoint your product's value metric(s). During the email series, we'll walk you through the process of surveying customers, brainstorming value metrics, and determining the value metrics that best fit your business. You'll also receive templates, best practices, and tips to perform pricing calculations and iterations. 
Feature-based Pricing
Not all software lends itself to pricing through metering its value metrics.
Sometimes, feature-based pricing—controlling the availability of certain features—functions best when software usage doesn't correlate linearly with value.
For example, many SaaS products have "advanced analytics" or "premium support" features. Rather than metering usage, many companies opt to limit the availability of such features to specific pricing plans.
Feature-based pricing is also useful when the value a particular feature provides varies significantly across customer segments.
For example, an "advanced reporting" feature in an email marketing software might not be that valuable to a small business such as a coffee shop. For a quickly growing software business, however, it might be incredibly useful. In this instance, the best pricing approach might be to have a few plans with different features while still implementing a value metric. This is similar to what Mailchimp does with its pricing.
If you anticipate implementing feature-based pricing, or have some sort of usage based pricing model, a usage-based billing system like Cheddar will help you quickly iterate your pricing.
How Much Value Can You Capture?
After you get a better idea of how your product creates value for various customers, you'll then have to decide on how much value you can capture.
The amount you can charge customers depends on how well your product is tied to the value received by your customer. Perception of value is everything. The better you're able to connect the relationship through key performance indicators (KPIs), the higher price point you'll be able to charge relative to the value created.
In general, companies with products that show value quickly through an impact on revenue or other KPIs can charge a higher percentage of the value created. Companies with less tangible value, or products that don't show value quickly, won't be able to charge customers as much.
When deciding on a monthly price, you'll also have to normalize aggregate value over your customer's lifespan. If you are unsure of your average customer lifespan, 24 months is pretty typical for a SaaS company. For example, suppose you save your customers $2,400 up front, and decrease expenses by $100/mo. Your normalized monthly value is $200 ($2400/24mo + $100/mo).
B2C Value-based Pricing
While the value-based pricing method isn't unheard of in B2C, it's far less common than B2B.
Generally, B2C purchases are more emotional and based less on the return on investment (ROI). For example, even some of the B2C products which could likely price based on value due to their time-saving nature often position their pricing emotionally. Some examples of this are companies such as Dashlane (password manager) and Grammarly (writing enhancement platform).

Consequently, competitors, customer surveys, and cost-plus strategies influence B2C pricing the most.
Value-based Pricing Doesn't Exist On Its Own
Value-based pricing is certainly one of the most popular SaaS pricing strategies. That doesn't mean, however, that setting a price for a customer based only on value is the only pricing method you should consider.
Your results will likely be somewhat arbitrary and high compared to your product's actual value if you only consider a value-based approach. That's expected due to your inherent biases of the value of your product.
To counter your biases, and determine what pricing works best for your company we suggest you looking at:
Only by using a variety of pricing strategies will you be able to construct a well-balanced and scalable pricing model.
If you're ready to make pricing a competitive advantage, sign up for our free Pricing Bootcamp. Included is a step-by-step guide to combining pricing strategies into a framework for regularly improving pricing.
About Cheddar
Billing built for developers. Cheddar is a usage-based billing platform that helps you track customer activity, iterate your pricing, and optimize your revenue so you can focus on building awesome products, not billing for them. Made with <3 from the Midwest.