Usage-based billing, also called metered billing, is the newest SaaS billing paradigm. But what is it? And what does it mean for your SaaS company?
Usage-based billing is when you track how much each customer "uses" your product or service in order to create a dynamic bill for each customer based on usage.
While there's a lot of different usage-based pricing models that SaaS companies use to bill their customers, here are some examples of usage-based billing in areas of your life you're likely most familiar.
Usage-Based Billing Examples
Usage tracking and metering in the home:
When you're thirsty, you might go over to a faucet and turn on the water, which your house's water meter conveniently tracks. At the end of the month, the water company bills based on the usage data from your water meter. The process is frictionless, and it makes sense for the consumer and for the water company.
This convenience gets to the heart of usage-based billing: pricing and payments based upon communicating usage data instead of a fixed price in dollars and cents. Until recently, most SaaS businesses didn't have access to the metering tools required to implement usage-based monetization–even when customers preferred it.
Usage-based billing example in ridesharing:
Think about it through the lens of an Uber or Lyft customer. When passengers ride in their drivers' cars to their destination, the ride-sharing apps conveniently track the distance and duration of their trips. Customers pay only when they catch a ride somewhere. Now, customers expect the same convenience from SaaS.
"Firms are shifting from one-time perpetual sales or fixed monthly subscriptions to consumption models that blend one time, subscription, and usage-based billing." – Forrester Wave
The industry's shift towards usage-based billing models may even eclipse the decade-long move toward fixed subscription billing.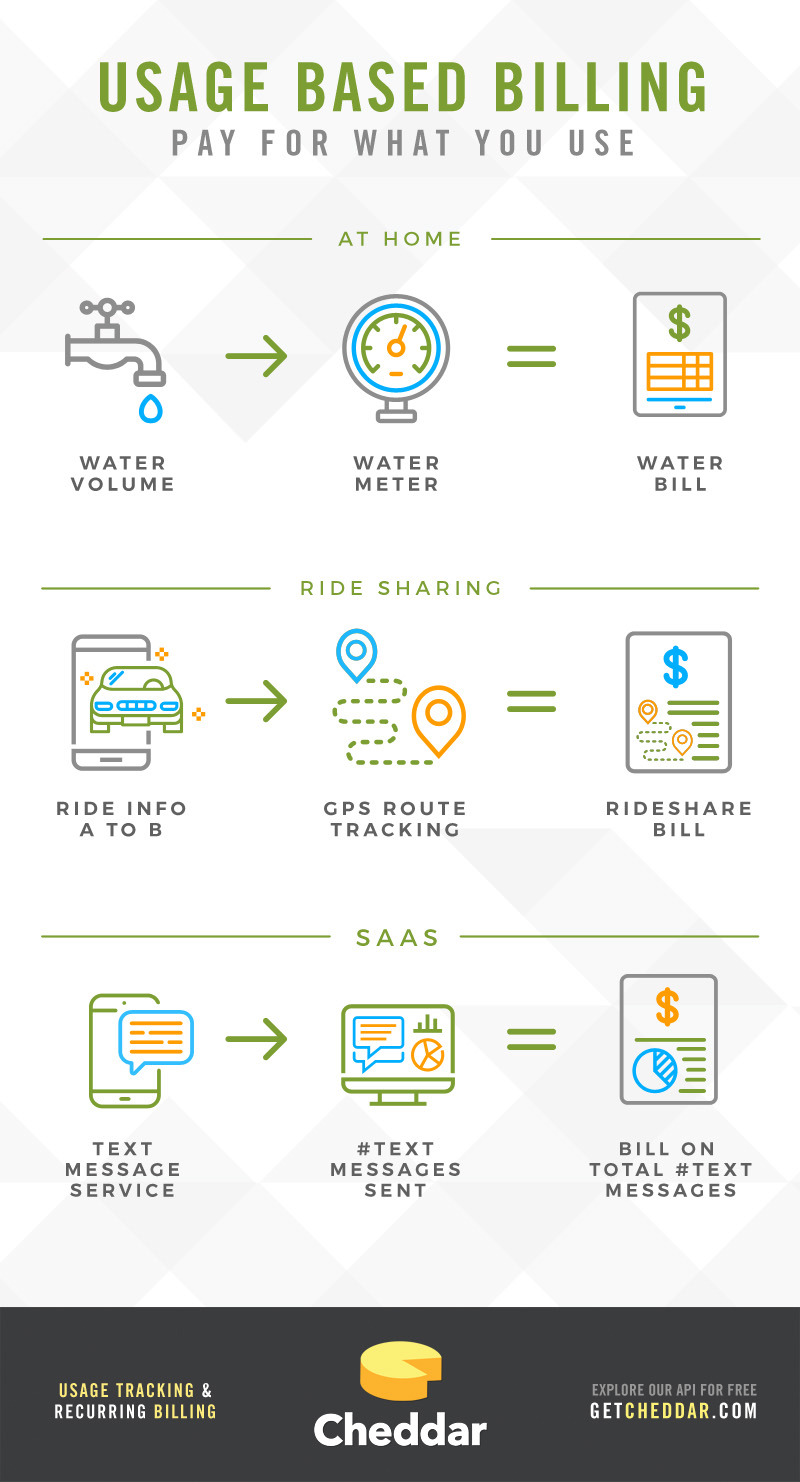 So how now do we calculate usage-based billing for a SaaS company?
First, let's talk about some challenges and perks.
Challenges of Usage-Based Billing in SaaS
SaaS companies are facing difficulties in responding to this new trend in customer demand.
High cost of time and resources to build billing into SaaS
Building a usage-based billing system requires time and money, and often involves reevaluating how and where your company provides value.
For that reason, and because each billing solution requires you to think about and build things like:
Recursion

Automation

Customer Communication

Authorization

Secure User Logins

Dunning

Collections

Chargebacks

etc etc etc!
AND, maintain all of this, the high opportunity cost is development time and resources, not just one-time but ongoing.
What happens when a customer decides to change their billing cycle before the end of the month? Anticipating customer changes ahead of time are crucial to bake into billing. In SaaS, it can take a developer weeks or months to build a way to track usage data and bill for it.
Cheddar CEO Mike Trotzke knows this intimately as he built this exact thing for more than 25 revenue-generating companies at Sproutbox. "That was time our business wasn't able to focus on building our core products, and it resulted in delays getting to market. Even worse, anytime we wanted to change pricing, developers would have to spend hours in our pricing meetings."
Hence the need for a one-time backend billing platform that decreases development time and helps SaaS companies launch more quickly – and stay focused on their core value, not on billing system updates.
Each SaaS business has unique billing needs
Another challenge in building billing for SaaS is that you can't simply install an equivalent "water meter" in every business.
Each business is different and has its own needs with respect to pricing.
Examples of Usage-Based Billing for SaaS Companies
A streaming music company might charge you for a flat rate, and on top of that, wants to track the number of times you listened to a song, or the number of downloads.

An online movie streaming service might charge a monthly subscription but also wants to track the number of devices used to stream films.

A telecom company, on top of your monthly bill for their service, might want to track the number of text messages you've sent over a particular determined plan limit.
Billing is unique in SaaS for the type of service you provide. More and more, SaaS companies are moving to usage billing because of the revenue generated and because it's what customers are beginning to expect. Decide first what you believe your company's value metric is, then center price around that, and use tracked items, cost, and value to iterate.
Advantages of Usage-Based Billing for SaaS Companies
Beyond some of the challenges, like time to market, development resources and maintenance, and each business having unique pricing needs, usage-based billing for SaaS is becoming increasingly important.
Usage-based billing increases revenue
A recent study done by Zuora found:
Usage-based pricing is an effective growth tool… subscription companies that employed a small amount of usage-based billing in their revenue mix (less than 10%) grew more than twice as fast on average as companies that did not employ usage-based billing at all.
Consumers love usage-based billing
Saving time, saving money, and adding flexibility to your pricing is great, but above all, one of the biggest benefits of making the switch to usage-based billing is that customers will love you for it.
Customers are the ones driving this billing evolution because it means they get fair, transparent pricing that's more aligned with the value they receive.
How to Implement Usage-Based Billing
It's important for SaaS to adopt usage-based billing to save time, maintenance, resources, and to generate additional revenue while serving customers in the way they expect.
Using a usage-based billing platform, like Cheddar, allows you to:
Integrate in days instead of months of development time

Focus on your product and customers while we manage all billing on the backend

Isolate pricing from your code base and empower flexibility to change pricing quickly

Customize and test pricing in real-time without burdening development teams or waiting on releases

Track items that map to customer activity and view that data in real time

View SaaS metrics reporting dashboards – LTV (lifetime value), MRR (monthly recurring revenue), Churn, Customer Signups, etc
A billing system centered around usage data is significantly easier to work with than building traditional billing and payment systems. Outline what items your team needs to track, and the usage-based billing system does the rest. Pricing, payment processing, collections, customer communication, revenue optimization, and SaaS reporting all come out of the box.
Usage-based billing also allows businesses to help identify where they provide value and match variable costs with variable pricing. This can be a huge help to new companies, allowing them to let initial usage tracking data influence pricing decisions from day one.
Simple and flexible. That's how billing should be.
About Cheddar
Billing built for developers. Using a unique usage-based approach to billing, we cut the time it takes to build monetization into a product by as much as 90%. No matter if your billing model is metered, one-time, subscription, or some combination, Cheddar allows you to focus on building awesome products, not billing for them.