In recent years, SaaS companies have moved more and more from one time transaction to subscription based models. Now, a lot of these companies are going one more step and are moving from flat subscriptions towards a usage-based model.
What is usage-based pricing model? Essentially, a usage based model is when your customer is charged based on how many or how much of something they use. This might be API calls, text messages sent, or really anything that you can count.
To bill for usage, Cheddar uses simple counters we call "Tracked Items". All you have to do is increment or decrement these items throughout a billing period. You can also set usage limits, bill for overage, or even just track activities without billing for them.
Because of the way Cheddar tracks and bills using Tracked Items, there's a lot of different models that we consider "usage-based" even though others might not. For example, with Cheddar, billing per API call has the same setup as billing per user. All you have to do is send Tracked Item data to Cheddar, and then you can configure the billing rules from within Cheddar's platform.
That all being said, whether your pricing model is usage-based or not, its essential that you communicate your pricing well to customers. Lets take a look at the pricing pages for some companies, and how they might be able to use a usage-based billing system like Cheddar.
Smartfile is a secure file share and transfer solution for businesses.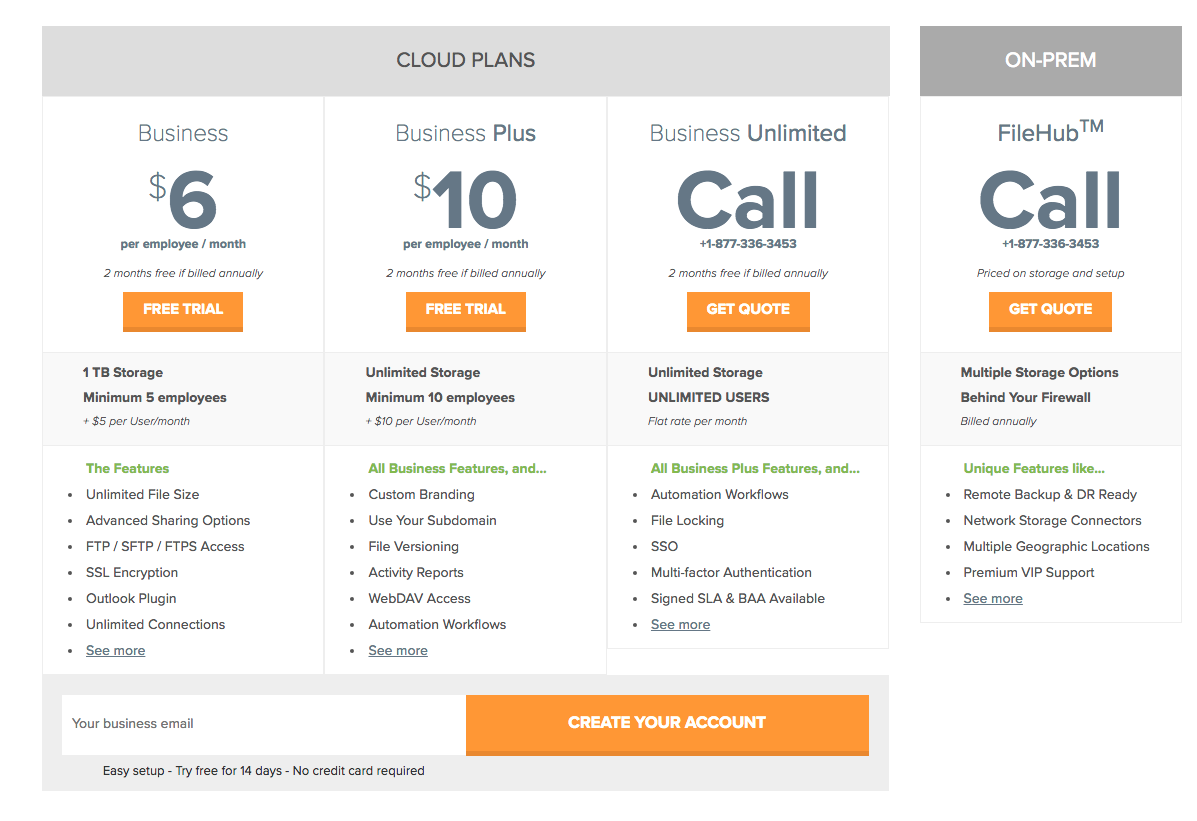 Pricing: At first glance, Smartfile's pricing seems to make sense. It seems that the price is per-seat, and depends which features you want, or how much storage you need. Taking a closer look at the Business plan, and Business plus plan, however, things start to get more confusing. The actual price a customer would pay isn't clear. It's not as easy as: Number of employees * Price per employee. There's a minimum number of employees required.
To further the confusion, It's not clear if there's a difference between "employee" and "user". Are you paying for the size of your company AND another fee for each person that actually uses the product? Are you essentially paying a flat rate and additional cost per user? It's difficult to tell. While the price a customer actually ends up paying might be fair, some small changes to the pricing page might help to make pricing more clear. 
What makes this plan usage-based is that the price scales per additional user. In addition to that, there's trackable activities such as storage space which need to be tracked in order to make sure a customer doesn't exceed the allotted usage level.
Astronomer is a fast, easy, and secure way to run apache airflow.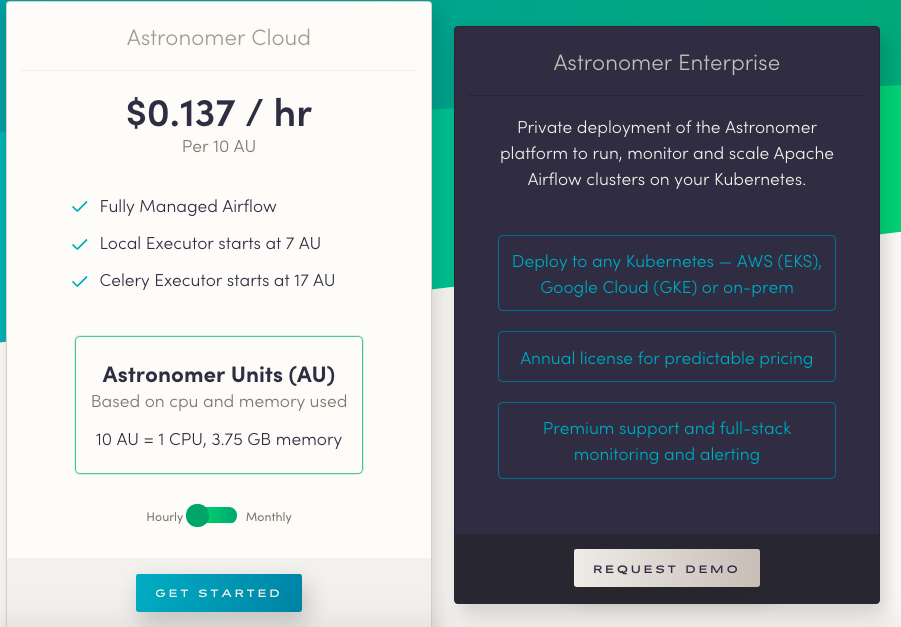 Pricing: Astronomer prices per hour, or per month, which work out to be roughly the same price. This is great, because it helps to provide context for what the price for a full month would be, which helps you to know how much you might pay in any given month. If you know nothing about Apache Airflow, the only thing you would need to know is:
1. How many hours per month will i use
2. How many "Astronomer Units" will i use
What makes this pricing usage-based is the option to choose a linear pricing model. Astronomer needs to keep track of hours, as well as "Astronomer Units" in order to calculate the price.
Ringr provides high quality audio for broadcast interviews, podcasts, etc.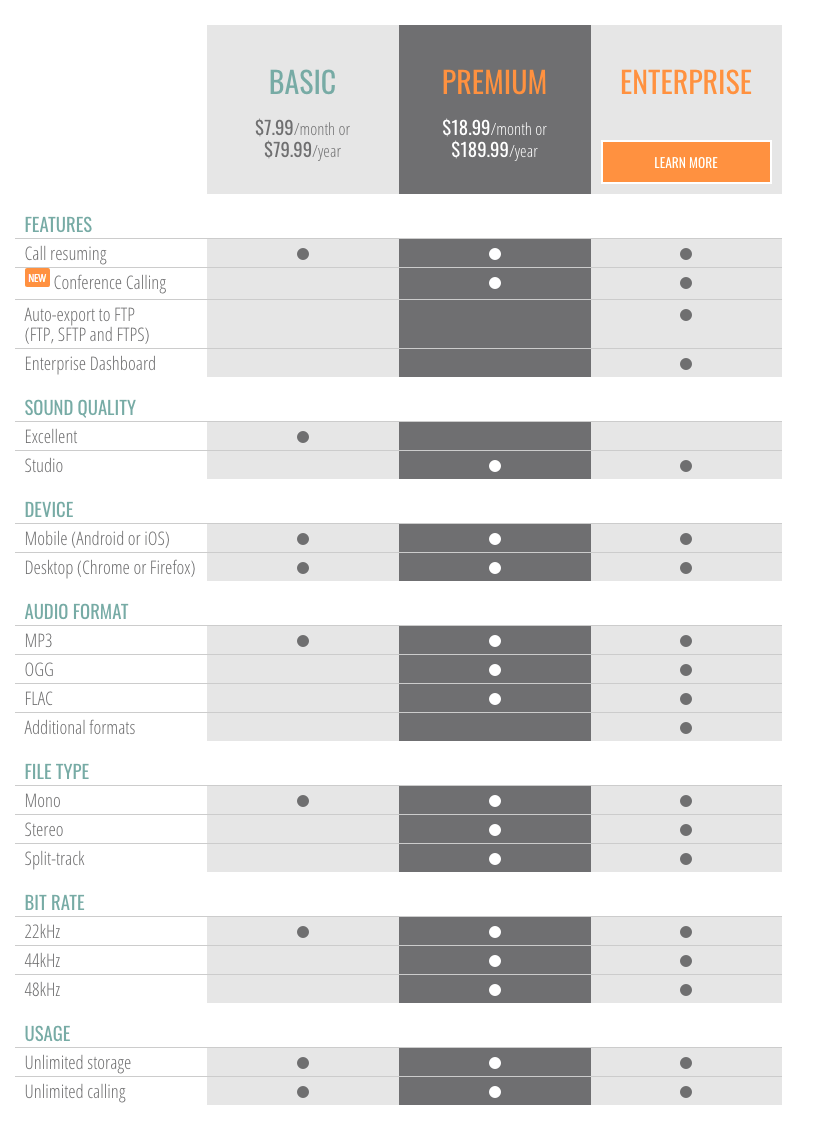 Pricing: Ringr's pricing is tiered. The better the plan, the better quality you get. Ringr also gives you more options in general for audio formats as you move up tiers.
Although the pricing doesn't scale with usage, that's not to say usage-based billing wouldn't be valuable for Ringr. For example, Ringr might track storage used, or number of downloads in order to get a better idea of how customers are actually using their platform. Eventually, these might be things that Ringr decides to bill for in the future to create more scalable pricing.
Avail is rental management software for individual landlords and their tenants.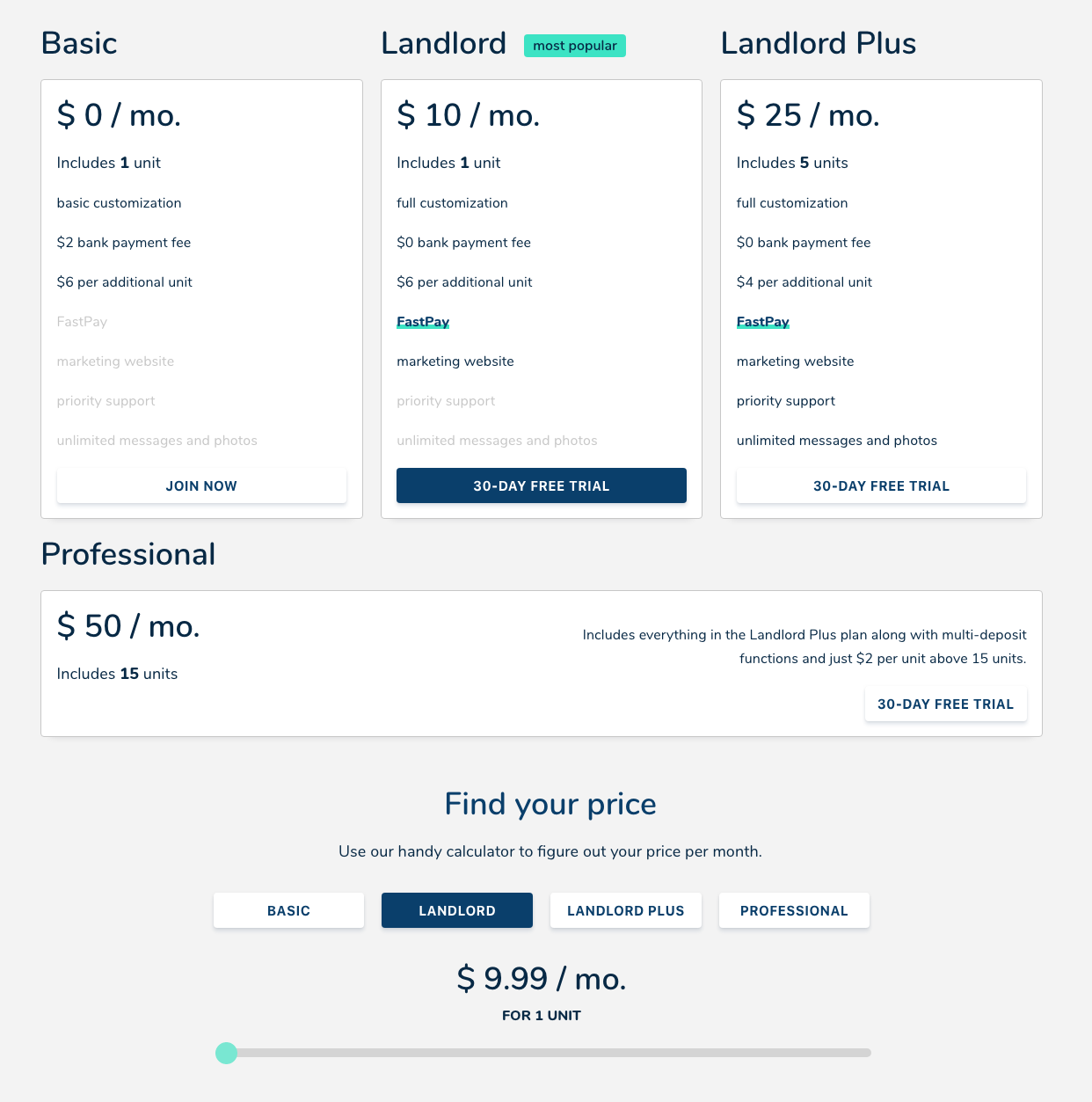 Pricing: Avail's pricing model includes tiers. For each tier, a flat subscription is charged each month, and and there is an additional price you pay if you exceed your allotted number of units. The sliding scale is a great feature to have on the this pricing page. A landlord knows exactly how many properties that they have. This makes it easy to know exactly which pricing plan you would be on, as well as how much you would be paying for pricing.
Avail's pricing is usage-based because it scales on the number of properties each customer has. There's also some limits on what customers can do, or how much of something a customer can do. This means Avail needs to track some of these activities in order to be sure a customer doesn't exceed their allotted usage.
Mimir helps you to "scale and automate your computer science classroom"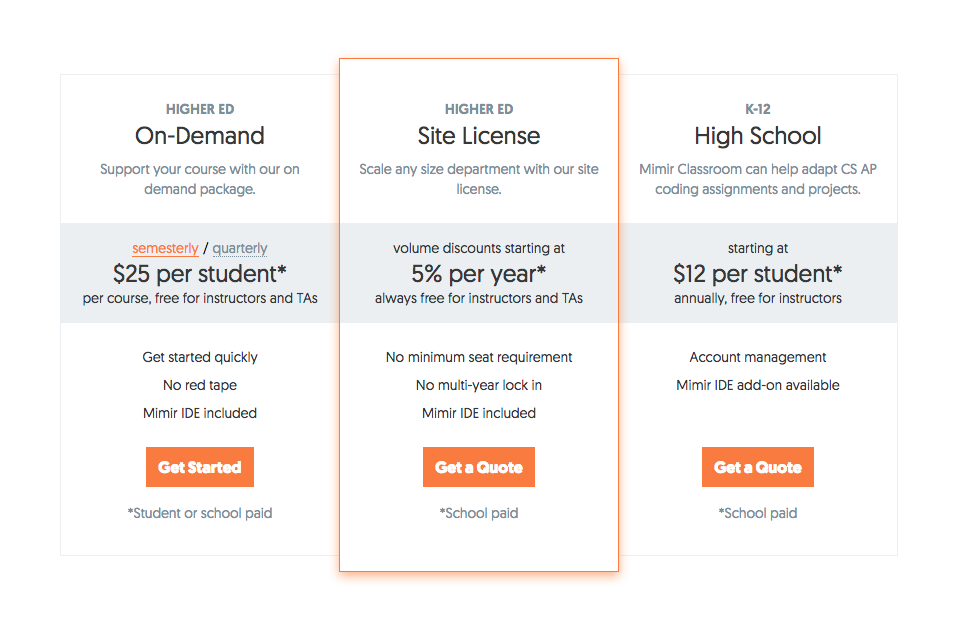 Pricing: Mimir's pricing is not exactly tiered, but they have multiple plans depending on their needs. It scales per student, but depending on the plan, the price per student is different. Because every school is different it makes sense that they have a "get quote" for their plans. Having some sort of per-student pricing is also great, because it provides some sort of context as to what the cost ends up being.
This model is usage based, because you need to keep track of the number of students using the product, but Mimir still could track other ways that your product is being used by students within the platform.
Structural is an internal tool designed to help you create better teams.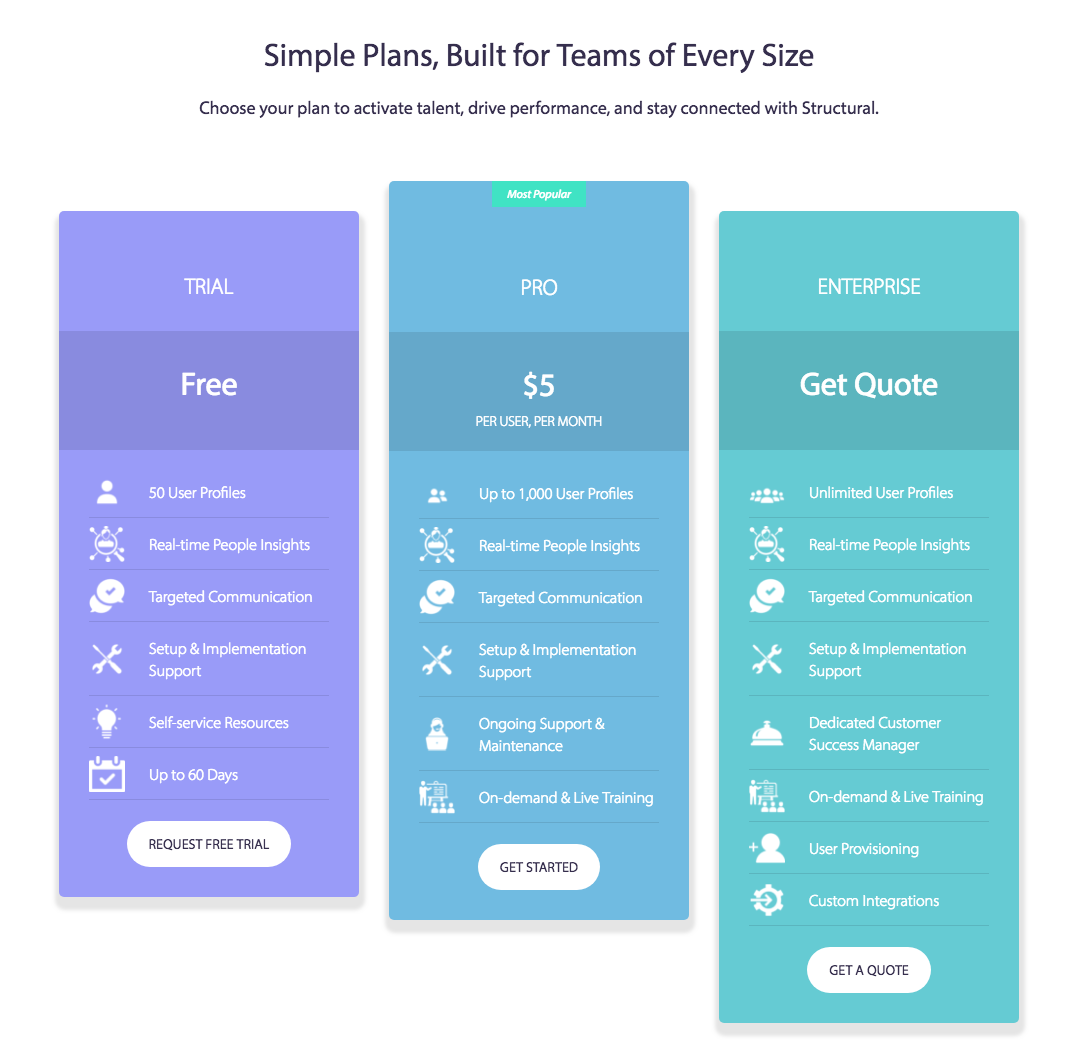 Pricing: there's really 1 main plan which is the pro plan. Having more people on the platform is more valuable, and the pricing scales that way. The free trial is great for companies wanting to try out the product, but it limits users to 50. Otherwise, the costs are pretty clear, the pricing scales, and it's pretty obvious what plan you need.
This model is usage-based, because you need to track of how many user profiles the customer has. Because there are some other features, it would also be valuable to track other interactions within the product.
Mailshake is a tool that helps you generate leads, build relationships, and promote content with cold email.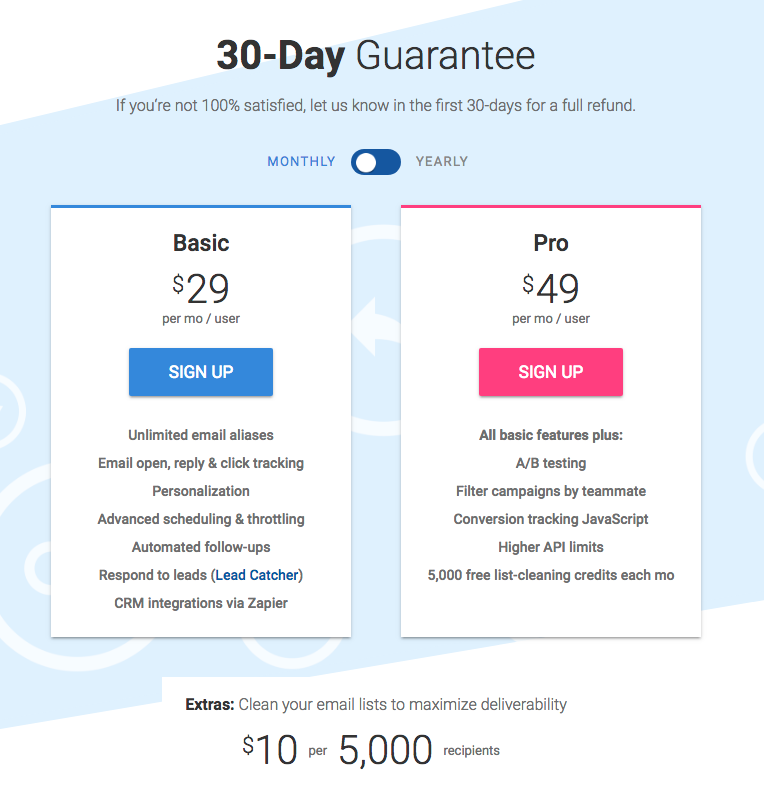 Pricing: Two plans that charge per user. Because of the simplicity, the pricing model is pretty easy to understand. It's pretty easy to see why it makes sense to charge per-user, as presumably, each additional user provides similar value to the customer. Because there's only two plans, you either want the features in the pro plan, or you don't. This makes it very simple to understand which pricing plan you fit into. Unlike a lot of SaaS companies, there is no enterprise plan offered here. Presumably is because enterprise clients aren't a target audience of Mailshake
This model is usage-based, as Mailshake would need to keep track of the number of users for each customer. Mailshake also might want to track email aliases, list cleaning credits, a/b tests run, etc. in order to see what customers are actually doing within their platform. 
Wrap-up
The way Cheddar communicates usage data makes it easy to get started billing for usage-based pricing models. Even if your company charges for a flat subscription, Cheddar's Tracked Items make it easy to track activities you might not want to bill for. If you do eventually want to bill for these activities, all you have to do is create a new pricing plan using those Tracked Items. If you're interested in seeing how easy it is to bill for usage-based models using Cheddar, Sign Up for a Demo, or Create a Free Account to get started.