Radius – Insurance Industry Lead Management & CRM Software
In this case study, we'll take a look at the pricing and growth journey of Cheddar customer Radius Lead Management, a CRM provider in the insurance industry that's bootstrapping their way to the top of a niche market.

Who Is Radius and What Do They Do?
Radius (Radiusbob.com – bob stands for "Book of Business") is a Lead Management & CRM software tool specific to the insurance industry. Radius helps insurance agents and agencies market to their leads while managing their existing client base.
Radius started as a side project and was bootstrapped for 8-9 years with a small team of 4 people. They never took on venture capital or any other outside investment. The team worked day jobs and spent mornings, nights, and weekends building Radius while putting the earned revenue back into the business to grow both the platform and the organization.
The CRM industry is huge, but the big players only provide broadly-focused products with a one size fits all approach. Radius founder, Clu Connors, realized the amount of time insurance agents spent customizing existing CRM solutions to suit their unique needs took away from their primary focus of helping clients find insurance policies. As a result, he built Radius, an industry-specific, insurance-focused Lead Management & CRM platform.
Radius is focused on lead management and marketing for insurance agents. With a traditional CRM, agents can spend hours, if not days, trying to set up features to manage the insurance customer lifecycle. Radius solves these problems by providing a system that has the features insurance agents need out of the box, including:
Automated Workflows

Email Marketing & Text Messaging

Sales Automation

Commission & Renewal Tracking

Built-in Telephony (VoIP) with inbound & outbound calling capabilities
Radius now has a growing client base and is a highly trusted Lead Management & CRM platform for the insurance industry.
What is the Radius Pricing Model
We asked Radius how they came up with their pricing. They initially tried freemium, but discovered that their bootstrapped business model required them to bring revenue in the door from customers faster. Freemium wasn't paying the bills, so they went with a tiered pricing model that offers price points low enough for early adopters to come on board.
A great thing about Radius is that they stayed true to existing customers and grandfathered in pricing for customers on their legacy plans – they didn't raise the price for early users. Their price stayed the same while the included features grew. This is also a Cheddar philosophy and one we value.
Over time, competitive analysis along with user feedback has allowed Radius to evolve their pricing model into the flexible, tiered pricing that they have today based on with-or-without built-in VoIP features.
https://www.radiusbob.com/#pricing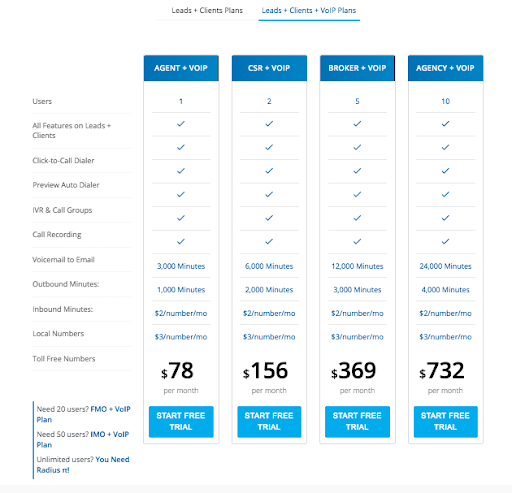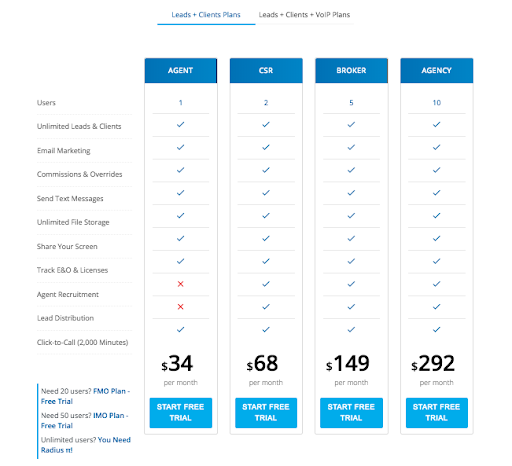 What Does Radius Like Best About Cheddar?
Clu's favorite part about Cheddar is the real-time reporting. As a business and product owner, Clu needs to stay on top of revenue. Therefore, he checks Cheddar's dashboard daily to see his MRR, LTV, churn, customer stats, revenue, and to run reports. He also likes how he can compare and contrast month over month and year over year revenue within Cheddar.
Radius is also a fan of Cheddar's customer success team who is always available to answer questions in-depth and help ensure Radius is always up and running. We love building relationships with our Cheddar customers that allow us to be partners in their success.
Clu's General Advice to Startups Getting Started
Slow and steady wins the race. It's so much easier to start up a business quickly relative to even a decade ago. But, that doesn't mean you should expect stellar results just as quickly. So many businesses launch and get frustrated that their traction isn't gangbusters in month one, two, six, twelve or more.

We aren't living in a patient society. You need to be patient. Most won't be featured on Techcrunch or SaaStr. Most companies aren't unicorns, white horses or even a horse for that matter. You just need to find your niche and define what's best for you as an individual and business. It's going to take time. It may well be a side gig longer than you had planned and that's ok.

People today want big offices, venture investments, and the spotlight to ramp and scale as quickly as possible. You have to be okay with that not happening. It's OK to fly under the radar, make your mark in a small way, build a great product that helps others as well as gets you paid. Decide if you want a quick play with cash-in and sell, or long term residuals.

Find a team that is in it for the long haul with you. Pay consistently, create a culture, and enjoy the journey together. Invest in them beyond the dollar, personally and professionally.
How to Find Out More About Radius
Go to radiusbob.com to learn more about the platform and all the wonderful features they offer. For a bit of humor, technology insight, insurance awareness and sometimes motorsports related content, give them a Follow on Twitter (@radiusbob).